Numerical control machines supported
PARTNER/ASPAN supports numerical control machinery of all the world's major machinery productors: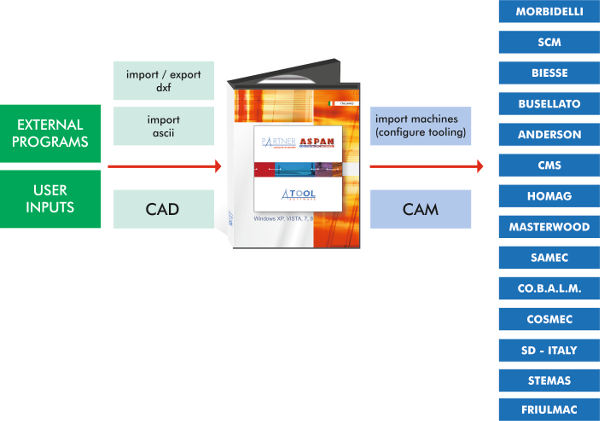 So, with the CAM environment is possible to generate programs for a large number of machinery with different type of numerical controls, as Xilog, Xilog Plus, Kvara, Tria, Esa and many much more. In any case, please contact Autosoftware by providing your machine model and type of CNC equipment used so that we can check your machine's support and assess your particular problems/case. AutoSoftware has the ability to create post-processors for almost all woodworking machines not yet managed, provided it has the necessary technical information.
PARTNER/ASPAN allows managing many machines, without the need to use other programs or different work environments, giving the possibility to easily switch available configurations and generate part-program for more machines from the same drawing.
So even when we have to manage a new machine, we can do it directly within PARTNER/ASPAN buying extra configuration. There will thus be available immediately the entire archive of drawings and programs previously generated, and avoid having to use a new program to manage this machine, saving both the cost of a completely new program and the time needed to learn the new software and recreate an adequate library of drawings and programs.
Machine and tooling configuration is also made easy by an import procedure for configuration data directly from the machine. This operation allows the user to be up and running in a few and simple steps without wasting time with long setting procedures.
click here to learn more about ...
click here to search the nearest seller...